This page contains sexual discussion. If you do not want to read sexually explicit material, please obtain software which allows you to block it out on your system. Also, please proceed to a site without such material.
Welcome to my sexuality page!
If you're looking for a WWW porn site, keep on surfin'. I don't particularly want to spend lots of money subsidizing lurkers who're downloading gigabytes of porn from my pages. Of course, most people aren't into the sorts of things I find exciting….
However, A Must See Site:
But if it's sexy bondage pictures you want, go immediately and directly to
http://www.houseofgord.com
If you like bondage, you will not regret it!!!!!
What's on this page:
The alt.sex.bondage FAQ list
Pictures!
Sexy Links
The Kinkiest Frequently Asked Questions List On The Net
I got online during my first year at college. I encountered a newsgroup called alt.sex.bondage . It was right up an alley I was only partially aware was mine. I learned a great deal from that group.
After a few years, I knew enough to start answering other peoples' questions on alt.sex.bondage. And by the summer of 1991, I'd been doing it a lot. So, little knowing what I was getting into, I put together a post with a few simple Q&A's. And thus was born
The alt.sex.bondage FAQ list!
Possibly the most widely read kinky sex manual in cyberspace history.
Over the ensuing three years it grew to its current length of about thirty pages. I've gotten hundreds of pieces of email from all over the world. Most thank me for writing it. Some testify to its potential power to juice up sex lives, some tell me how it's eased worries or misconceptions they've had for years, and some request permission (almost always granted, but only if you ask!) to distribute it via other BBSes or newsletters. I am quite proud of the impact it's had on the world.
The FAQ's taken on a life of its own; searching for "bondage" via the InfoSeek server pulled up several online copies of it. It is probably what I'm best known for on the net at the moment.
The alt.sex.bondage newsgroup is now departed, but the soc.subculture.bondage-bdsm newsgroup lives on. Check out my FAQ for it at
http://www.unrealities.com/adult/ssbb/faq.htm
Thanks to everyone for all the support and encouragement you've sent over the years.
Press Coverage
The alt.sex.bondage FAQ was mentioned in an advice column in a 1996 Playboy issue. My 15 seconds, right there 🙂
There was also an article about a.s.b in Wired , in 1995, I think.
In recent years things have been pretty quiet on the press coverage front. I guess people are getting used to the fact that you can find pretty much anything on the Net.
Pictures!
More of them! If too many sweaty-palmed horndogs come hunting for these, Best is going to get mad and pull my account. So BE SMART! Each is about 100K as a JPEG.
First, a fetish portrait of me with my beautiful, precious wife: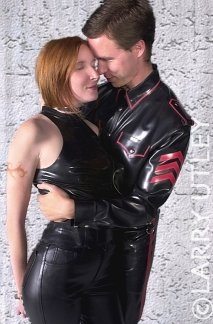 And another shot of her, solo: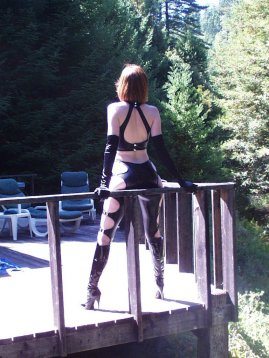 This was from a wonderful romantic weekend — there's nothing like complete privacy for two pervs in love 🙂
And now, more pictures of me & pervy friends.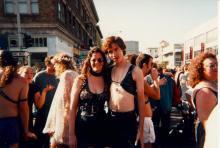 Me and my delightful friend Lady Serena, during the Folsom Street Fair in 1994. Charles Haynes is around here somewhere but not pictured.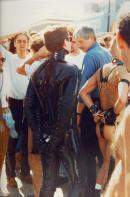 A gentleman in a dandy rubber suit, at the Folsom St. Fair in 1993. Latex is one of my favorite kinks, truth be told, especially with bondage. I'd be quite happy to be in this guy's shoes. (Excuse me–his boots .)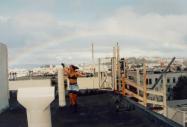 My friend Willow, dancing with joy underneath a rainbow, on Pride Day 1991. This was especially happy because we had spent the whole day watching the Gay Pride Parade, and there had been rainbows adorning everything within three blocks of Market Street.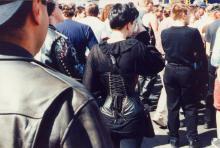 A very nice corset worn by someone at another Folsom Street Fair in 1992 or so.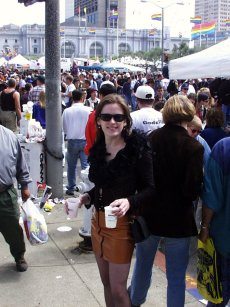 My glamorous friend Mistress Sage, at Pride Day 1998, having a damn fine afternoon.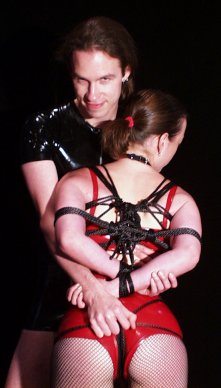 This picture is from the fourth edition of the Stockroom gallery ; that's me and the lovely KXF, who is modeling some of my ersatz Japanese rope bondage.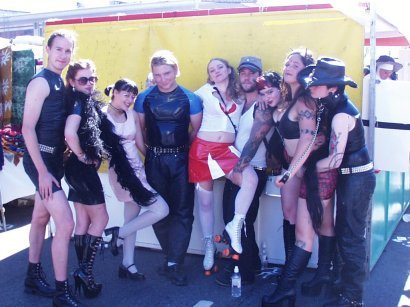 Folsom Street Fair! I'm next to Mistress Sage, and the rest of the troublemakers pictured are a bunch of common friends. What a party! I wish every Folsom Street was like that one… yow!!!!! Can't wait for next year!
Read about Naomi Tani, queen of Japanese bondage films at CultSirens.com.
The wettest of the Web:
Because I know you want some more places to go… or to come 🙂
I've trimmed this list down a lot because it was chockablock with dead links (as of June 1999). You'd do better to check the resource list of my FAQ itself.
alt.binaries.pictures.erotica.fetish.latex and alt.binaries.pictures.erotica.bondage
Two of my favorite newsgroups. I created both of them, and it's nice to see how many people have joyously jumped in with images. Senator Exon, I'm sure, had some pictures from these groups in his famous "blue book". Ah, it's nice to be acknowledged, however indirectly.
The best erotica store I know of.
One of the best fetish magazines in the world, in my opinion. This kind of stuff really gets my motor running. How about you?
Now an online newspaper for the SF leather community. Yay!