This last winter in California was one of the most insane on record. Some towns got flooded three times, and various hills collapsed, among them a portion of Route 1 named Devil's Slide. One day in March my friend Margarita and I cruised out over the San Mateo hills to Half Moon Bay in search of the mystical 40-foot surf at Maverick's, and then north to find the Devil. This is what we saw.
Most of these JPEGs are about 100K. If you have Netscape 1.1, right-click on a thumbnail and choose New Window With This Link to start loading it in another window. (Other browsers likely let you do something similar.) You can grab a whole bunch at once this way. Is 100K just too big? Let me know.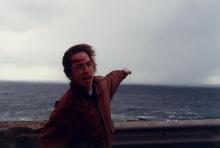 I'm pointing at a microburst of rain offshore about a mile, and heading right for us. It was an extremely wet and windy day, with serious downpour alternating with blue sky. We later found out some waterspouts (!!! in California!) had been sighted that day off of Half Moon Bay, just a few miles south.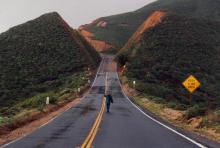 Margarita walking north along the deserted, rain-slick road. The sign says ROCK SLIDE AHEAD… no doubt! Spooky to be walking on such a high-speed road, completely empty… I'd never seen this at less than 40 mph before.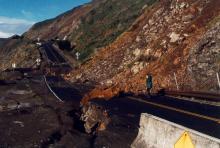 Found it! Margarita is overcome with excitement, and convinced that getting near the edge will send the whole hill into the sea.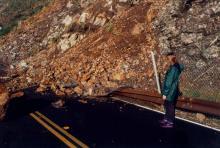 The guardrail is slumped under the rocks… the hill didn't even notice it.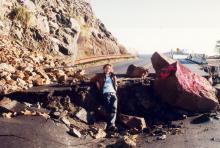 The best laid plans of mice and engineers…. Margarita eventually agreed to take my picture–quickly!–from the collapsed section.